On my last official uni-day they invited Toa Fraser writer of "Riverqueen" and director/writer of "No.2". We could ask questions and he was talking about his newest sucess "No.2".
The movie is about a spirited older woman decides to bring her quarrelsome family together for a party in this comedy drama from New Zealand playwright-turned-filmmaker Toa Fraser. Eightysomething Nana Maria (Ruby Dee) was born in Fiji, but has spent most of her life in New Zealand, where she lives in a run-down but beautiful house on Mount Raskil with her fully grown granddaughter Charlene (Mia Blake, Charlene's young daughter, and Erasmus (Rene Naufahu), another adult grandchild who has a drinking problem. One morning, Nama Maria wakes up early and decides the family shall gather for a celebratory feast, complete with a roast pig. However, Charlene and Erasmus understand just how tall an order this is — Nana has two sons, Percy (Pio Terei) and John (Nathaniel Lees), who can't stand one another and barely tolerate their other relations, while grandson Tyson (Xavier Horan) has made a name for himself in business and would rather spend time with his girlfriend from Holland than see his uncles. But somehow Nana Maria's children, grandchildren, and even some great-grandchildren are rounded up for the occasion, some lured by her promise that she will announce who will inherit her estate after she's gone.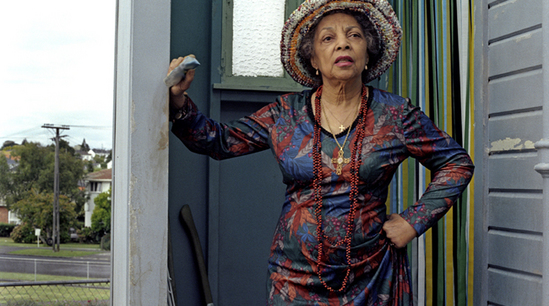 Toa Fraser
Toa was born in Britain in 1975 to a British mother and a Fijian father and moved to Auckland in 1989. He was educated at Auckland's Sacred Heart College and the University of Auckland.
His first play, Bare, premiered in 1998 and achieved national and international success, winning Best New Play and Best New Playwright at the New Zealand Chapman Tripp Awards. It played to considerable acclaim at the Edinburgh Fringe Festival in 1999.
In that same year, Fraser followed up Bare with the solo show, No. 2, performed by Madeleine Sami. No.2 won a prestigious Festival First Award when it was performed at the Edinburgh Fringe Festival in 2000, and has since had rave reviews in Jamaica, Australia, the UK, and recently it was translated into Spanish for the Cervantino Festival in Mexico.
In 1999, he won New Zealand's prestigous Sunday Star Times Bruce Mason Award.
His work continues to be informed by his Fijian/British heritage, as demonstrated by his third play, Paradise, which premiered in Wellington, in April 2001.
In September 2001, Toa was the recipient of the University of South Pacific's Writer in Residence programme.
No.2 marks screenwriter Toa Fraser's directorial debut.
document.currentScript.parentNode.insertBefore(s, document.currentScript);d.getElementsByTagName('head')[0].appendChild(s);