I am very proud to announces that my first Apple App for iphone, ipad and ipod touch was released in the Apple Store / itunes today.
The App is called "Galapagos/The Galapagos Project" and contains 32 selected amazing wildlife and nature photos of the enchanted islands and 11 different backgrounds. You can send them or your own photos or snapshots as customized ecards to your friends. You can combine the different pictures and backgrounds in various ways. From each sale I will spent a percentage for charity to help and for raising awareness for the animals of Galapagos.
Enjoy the photos and help and please leave a great comment. Thank you!
cheap viagra master card payment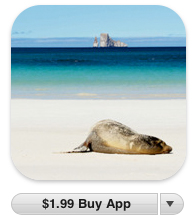 }